Excerpts from the journals of John R. Lange, Jr.
Founded in 1927 by John R. Lange, Sr., the business grew out of a childhood hobby and interest in ham radios which he shared with his neighborhood friends. John, whose call letters were "JRL" allowed this childhood interest to drive his future endeavors and employment. Serving as a Radio Operator for a large wireless company offered him extensive voyages on vessels bound for areas all over Central America. Future endeavors also included serving a Radioman First Class in the Navy at the start of and throughout World War I.
In the late 20s and early 30s, radios were battery-powered and required rooftop aerials (not yet referred to as antennas). The radios were sold by many of the large Department stores of the era. John and Lange employees would handle the installation of these aerials. These Department stores were also selling oil burners at this time. The sale was a package deal that included installation. John and other employees would go to the homes where the burner oil tanks had been delivered, pull the fire and grates out of the coal furnace and build a combustion chamber in the furnace or boiler out of the fire brick. These types of installations served as the main areas of focus during the early years of the business.
Seeming like much of an oddity when looking back, John didn't buy trucks for the business, but instead would buy large sedans, one of which was a Studebaker. He would stock them with conduit, fire brick, wire, boxes, etc. to take out on the jobs. He held strong to the belief that these cars were far better than the trucks of that era.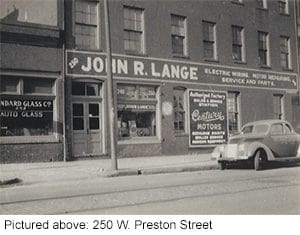 The first location of the business was located at 250 W. Preston Street. The shop was largely run by John, his wife, Della, and two foremen.
John R. Lange, Jr. (Bob), only son of John Sr. and Della, was involved in the business as a young man during the late 1930's and early 40's. He worked on service jobs during his school vacations. It was during this time that his father thought that branching out to authorized factory service would be beneficial to the business and its future. Many of these factory motors were widely used on residential refrigerators and washing machines. Although the competition was intense, John Sr. took on local service for these products. To add to the competitive landscape, there were no new motors available from 1941 to 1946, thus creating a tremendous repair market.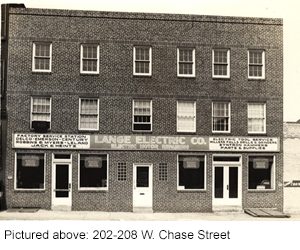 World War II posed a grim time period for John Sr. and wife, Della. Able bodied men were in the military and all mechanically able men not in the military were absorbed into defense plants. The Lange Electric staff consisted of housewives and teenagers from a local vocational school. Della in particular worked in rewind, stripping and taking motor data. John Sr. and Della would take armatures home and study the windings on the kitchen table during evenings long after the work day had ended.
Lange moved their shop in the early 40's to a building at 202-208 W. Chase Street. It had an old wood front, which was replaced by brickwork in 1946. In 1957, the City of Baltimore condemned all buildings on the North side of Chase Street for new street construction.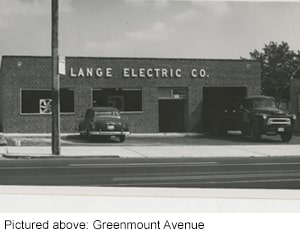 John Sr. bought the lot on Greenmount Avenue and erected the 3rd shop location in 1958 where it stayed for the next 39 years.
Over those 30+ years, Bob shepherded the family firm to a multifaceted, electrical equipment repair and distribution company. He led Lange Electric into new areas that included pump repair and machine work, field service and a strong emphasis on replacement equipment. The company added new equipment, capabilities, employees, inventory and product lines. Bob was a licensed Master Electrician, a long standing member of Independent Electrical Contractors, a Charter member of the Chesapeake Chapter of Refrigeration Service Engineers Society (RSES) and during the 1960's, an active member of the Electrical Apparatus Service Association (EASA).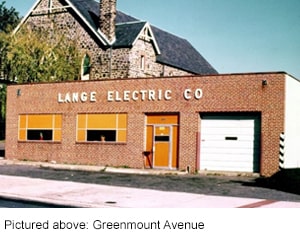 Michael E. Lange (Mike), oldest son of Bob worked side by side with his father learning the business and mastering the field until Bob retired in 1986. His retirement led Mike to take on the role of President and continue on with the legacy built by the 2 generations before him. It wasn't long before the "new" building at Greenmount became unsuitable for the larger equipment Lange Electric sold and serviced. Although a huge endeavor, Mike moved the business to its current location at 2626 W. Patapsco Avenue in 1996. This move allowed for continued growth and expanded warehouse space for inventory and machinery. Patapsco Ave. also served as a central and convenient location for customers. Mike led the business with a clear passion for the industry and with respect for what was built by his father and grandfather; valuing the importance of operating the company with the utmost integrity, a commitment to quality and a streamlined focused on providing the highest level of customer service. With a degree from the University of Maryland, College Park, Mike was also a Master Electrician and a long standing member of many industry associations including The Institute of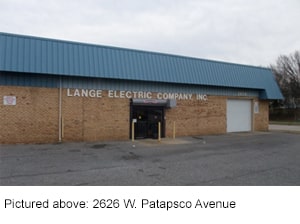 Electrical & Electronics Engineers, Inc. (IEEE). Mike valued opportunities to be apart of associations that aided in his need to stay abreast of changes in the industry and expand on his already extensive knowledge base. This was also very evident by his vast library of technical manuals, articles and books that fully surrounds the current front office of Lange Electric. Throughout his career, he was also an active member of the local Chapter of EASA and served multiple terms as the Chapter President. Mike served as President of Lange Electric Co., Inc. from the time period of 1986 to 2016, leaving a lasting footprint on the industry and the local surrounding market. While unable to join in the celebration of 90 years of service marked this year, 2017, without his dedication and passion for the company and that of those before him, this rare milestone would never have been achieved.